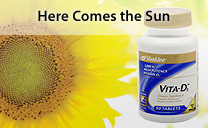 Here is an article on how this critical vitamin is in Alzheimer's.
Add some sunshine to your day with Vita-D3™!
Recent research shows that vitamin D—the "sunshine vitamin"—offers a multitude of benefits including supporting healthy heart function, immune and bone health.
But, depending on where you live, the time of year, and your skin color—you may be among the many Americans who aren't getting enough this essential nutrient.
Boost your level of vitamin D with Shaklee Vita-D3. The perfect choice for overall health and well-being, Vita-D3 provides 1,000 IU of high potency vitamin D3 to help your body thrive!
To read more about Vita-D3 or to order click here
:
Vita-D3