From the Power of Shaklee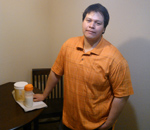 Congratulations to our Transformation Challenge Winners from the Dallas Area Shaklee 180 Event! Check out their inspirational stories…and remember, now is the perfect time to get started on creating your own story of transformation, as you prepare to share Shaklee 180 in the New Year!
Leo Salinas (Associate, TX)
First Place Winner - $1,000
Leo lost an amazing 98 pounds and 6 inches from his waist!**
"At the age of 26, I weighed 425 lbs and was unable to walk more than five minutes without losing my breath. That's when I said to myself, 'I want to get healthy for myself, my wife, and our future children.' This weight loss meant getting myself on track to living a longer, healthier, and more fulfilling life.
Cinch® has worked for me by making dieting easier and a whole lot less stressful. I had the tools and the information I needed to succeed.
I hope to continue on my journey to a longer and healthier life and will continue to exhort my family and friends to join me on this journey of a lifetime."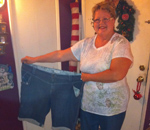 Cathy Daniels (Distributor, TX)
Second Place Winner - $500
Cathy got 26 pounds healthier, lost 12 total inches and three dress sizes!**
"I have been overweight since elementary school. Mom would sew my clothes because I was too big for normal kid's sizes. I grew up in the age of 'always clean your plate' and to say the least, I did what I was told! Having tried the name brand diets several times and my weight going up and down for so long, I feared my last resort was weight loss surgery. I have been diabetic for 7 years and my doctors were constantly telling me to lose weight. I could barely walk and would be out of breath all the time. I loved to ride roller coasters but had gotten too heavy to fit in the seats. I felt awful, had no energy, slept most of the day and knew this couldn't continue.
My sister-in-law and nieces are part of the Shaklee family and have seen positive changes in their family's health. They told me about the Cinch program. I saw their results but was afraid I couldn't stick with it. I WAS WRONG! I use the Shakes, Meal-in-a-Bars and Snack Bars and have finally found a program that works for me and one that I can live with.
My goal is to keep going and get the weight off once and for all. My husband and I will be celebrating our 33rd wedding anniversary in March and we are going to Hawaii. I have always had to use a seat belt extension to fit in the airplane seats (so embarrassing) and now thanks to this challenge, I can fit easily in an airline seat for a change!
I want to promote the healthy lifestyle I have now achieved with Shaklee products by becoming a Wellness Educator and bringing Shaklee into other people's lives. I cannot thank Shaklee enough for all their wonderful products!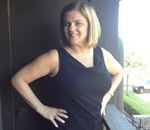 Barbara "Gail" Davis (Member, TX)
Third Place Winner - $250
Coming to the party at the entry deadline, in four weeks Barbara lost 9. 5 pounds and 10.75 inches in the Transformation Challenge.**
The seed for my transformation was planted at the 2008 Shaklee Global Conference in New Orleans. I was backstage with keynote speaker Nando Parrado and I got the opportunity to hear about Cinch. There was so much energy and buzz as the products were being discussed and people were being honored for their success on the new program. I had tried many diets and I remember being interested and skeptical of Cinch. So I did nothing. I did however, become Facebook® friends with one of the honorees, Marcia Flach (Director, TX). I began to notice something. It has been four years and she still looks great. So I called her. She told me about the Challenge. I went to her house on the last day you could enter, we placed my first order and I began my journey.
I love the products. I am encouraged and optimistic. It has just enough structure to give me direction, yet enough freedom to allow me to live my life during the journey. I told Marcia I see myself going from back stage to center stage! I am also learning about myself. I love that this is a journey rather than a diet. On a journey, you tweak, you modify, you improve. Nando always says, "Don't look back" so I won't. This transformation journey is going all the way!
** Results not typical. In a preliminary clinical study of the Cinch Inch Loss Plan, participants on average lost 15.4 pounds and 6.6 inches over 12 weeks.
For less than $3 per meal - Lose the weight or your money back!
Keep the muscle you have. Burn the fat you don't need. Lose the inches you don't want.
For less money than most plans, there can be less you this year!