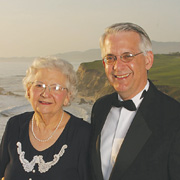 Congratulations to Kay and Bob Ferguson our newest Senior Master Coordinators! For over 40 years the Fergusons have shared the gift of Shaklee with countless families and have been passionate advocates for the Shaklee Philosophy. Check out their story.
My mother Kay started our Shaklee business in 1970 when I brought home a bottle of Basic-H® from a neighbor my mother had 'volunteered' me to help with a math course she was taking to become a school librarian. She did a Basic-H® demo for me in her kitchen, and I was so impressed I took it home to show my mother. She tried it, and the rest is history.
My mother was a community leader, so sharing Shaklee and the Shaklee philosophy was a completely natural thing to do. It was a very wise choice, as five years later, my father tragically died in an auto accident.
My mother immediately saw the relevance of Shaklee -- both the environmental products and the nutritional supplements. Several months after starting to use Basic-H® and the other cleaners, she was introduced to Shaklee nutrition. It wasn't long before she began experiencing a better quality of health, and when that happened, the light turned on, and she saw what the business could do for our family.
I joined my mother in our business in 1977 when the funding for a program I was running in a maximum security prison finished, my first child was born, and I needed income! By 1979 my mother's income in our Shaklee business had already far exceeded my dad's salary as head of the math department in a major suburban Boston high school.
We always believed we could become Master Coordinators and within three years of my joining the business we achieved the rank. We've been able to be successful by listening to people's needs, and then applying the right suite of tools and personal coaching. We weren't working for the rank as much as seeing the value of building as strong a business as possible, both for our benefit and that of our customers, business builders, and leaders in our organization. Senior Master Coordinator was a natural evolution when the rank was announced.
My mother's initial goal in building a Shaklee business was to earn enough so my father could retire. While those plans were cut short, our business has afforded us a lifestyle unimaginably richer than what would have been possible on my father's limited retirement benefits.
~~~~~~~~~~~~~~~~~~~~~~~~~~~~~~~~~~~~~~~
To learn how you can have your own successful Shaklee business, contact us today!
Email us at youtobehealthy@yahoo.com