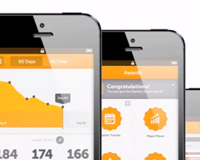 Turn your shape around…with customized support in the palm of your hand! The Shaklee 180 Mobile App is available now for iPhone® and Android® smart phone devices.
The addition of the Shaklee 180 Mobile App to our program puts Shaklee on the leading edge of weight loss programs.
The most popular programs trending in the market today are those that have a mobile app – and the Shaklee 180 Mobile App – developed by Shaklee, for Shaklee, really sets us apart from the competition. We will continue to add enhancements to the App over time as well, with updates coming as soon as April.
Everyone who has purchased a Shaklee 180 Turnaround™ or Lean & Healthy Kit has exclusive access to personalized support 24/7. Get going in minutes. Log in, set your goals and start using interactive tracking tools today.
Here's what's included with the Shaklee 180 Mobile App:
Daily Dashboard - Get personalized motivation every time you open the App.

Life Logging – Log your food, activity and mood from anywhere.

Shaklee Smart – Designed for Shaklee 180, you can track your favorite Smoothees, Snack Bars and Meal-in-a-Bars.

Earn Badges – As you hit goals, you earn badges that you can share with friends on Facebook.

Meal Memory – Saves all of your favorite meals.

Track from the Treadmill – Choose preloaded workouts or create your own and track calories.

Personalized – The more you interact, the more personalized the tips and motivation that you receive becomes.

Plus, win Prizes! You win while you lose because your tracking counts towards entries for prizes.
The Shaklee 180 Mobile App is compatible with both Android and iPhone technologies, and simple to download from iTunes and Google Play - just search for "Shaklee 180" and download!
The Weekly Sweepstakes Has Begun!

25 winners a week, and it's on! The more you interact with the Shaklee 180 Mobile App (e.g., logging exercise, food, AutoShip participation, completing a health questionnaire), the more entries you earn.
Ten people will win prizes, like an iPod® Shuffle, Bose® Sport Headphones, body or food scale, blender or $100 gift card, and 15 people will earn $90 Shaklee product coupons. No limit on number of times participants can win.

*For full contest rules and eligibility go to the Official Rules

and scroll down to the section entitled "Shaklee 180 Healthy Sweepstakes Official Rules." No purchase necessary.

Thank you for your patience and good luck to everyone!
Want to learn more about how Shaklee 180 can help you lose the weight and teach you how to keep it off? Check out Shaklee 180 link or just click the "Contact Us" tab up top to get in touch with us.
Trademarks are property of their respective owners.