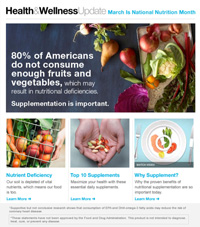 National Nutrition Month is a nutrition education and information campaign created by the Academy of Nutrition and Dietetics, and celebrated annually in March.
The campaign focuses attention on the importance of making informed food choices and developing sound eating and physical activity habits. Visit the Eatright.org web site for information on this year's theme - "
Eat Right, Your Way, Every Day
."
Did you know that 80% of Americans do not consume enough fruits and vegetables, which may result in nutritional deficiencies?
Supplementation is important. And National Nutrition Month is the perfect time to focus your efforts on nutritional supplementation and proactive health.
Healthy Nutrition – Changing brands can change your life! As the number one national nutrition company in America, we've been helping people live healthier for over 50 years. Are you ready to change your life? Visit our website and see how we can help – ToBe Healthy