Congratulations to Amberle Heath - $10,000 Fall Transformation Challenge Winner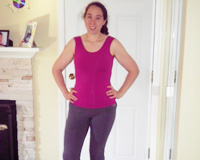 And the winner is…
Amberle Heath, IL
, who recently became $10,000 richer after getting a total of 131 lbs.* healthier with Cinch®!
Amberle, a stay at home mom of two, accepted the Fall Transformation Challenge in order to get healthier for her kids. After becoming a 1st place winner of $1,000 at the November Regional Conference in Chicago, her success story was selected as our $10,000 grand prize winner.
When Amberle started the Transformation Challenge she had almost lost 100 lbs* on Cinch®. During the challenge she lost an additional 26.6 lbs*.* Today, she has lost a total of 131 lbs** and has transitioned to the Shaklee 180™ Lean & Healthy Kit to continue with her After-After™ success story.
"My family life has grown deeper. I am able to connect with my kids. I can run with them and dance without getting winded after five seconds. I can carry both my girls which is over 50 lbs and not struggle. I have the energy to stay up at night and spend time with my husband to strengthen our marriage. I'm living life now not just sitting through it."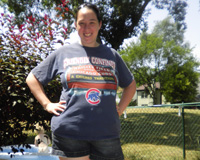 Amberle plans to reinvest her winnings in continuing to help her family to be healthier. Some of her plans include being able to exclusively buy organic fruits, vegetables and meats, a double-jogger stroller so she can take her girls on runs, and of course a new wardrobe to fit her newly transformed body after going down over 8 dress sizes.
Way to go Amberle! Share Amberle's success story with people you know who want to experience a Turnaround™ in their health.
Want to experience the amazing results like Amberle did? Then join me and many others who are already losing weight with the #1 Natural Nutritional Company in the U.S. - Shaklee, where all products are based on solid science, not fads.
Or click the "Contact Us" tab up top to leave a message with us and we will get back with you very soon!
** Results and experiences are unique for each person, so results may vary. In a preliminary clinical study, participants on average lost 15.4 pounds and 6.7 inches in 12 weeks.