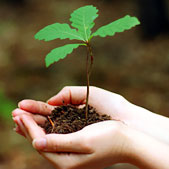 Sometimes, you do things because they're good for business.

And sometimes, you do things just because you should.

Among these are our campaign to plant a million trees.


Our sponsorship of three North Pole expeditions to measure the impact of global warming.
Our donation of environmentally friendly cleaning supplies, used on board Jacques Cousteau's research vessels.
Our donation of vitamins and nutrition drinks to undernourished children and earthquake victims.
Our support of the United Nations Millennium Development Goals to promote human rights and end poverty.
Our partnership with Dr. Wangari Maathai, the first Nobel Peace laureate recognized for environmental work.
Our official sponsorship of Earth Day. Our donation of almost half a million dollars to U.S. hurricane relief.
Our annual giving that has topped $3 million.
The list goes on.
And so does our commitment to doing what's right simply because it is.
To learn more, visit our site
To Be Healthy