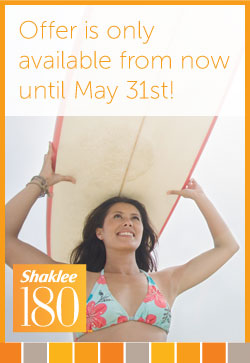 Take your shape in a whole new direction
Shaklee 180™ is the newest, most comprehensive weight loss program designed to help you lose the right kind of weight – fat, not muscle.
Start losing weight, get $100 for Shaklee products and pay NOTHING for shipping and handling!
Join with a Shaklee 180™ Turnaround or Lean & Healthy Kit. Or start your own Shaklee business by becoming a Specialist with a Shaklee 180 Gold Pak.

Sign up to have your Shaklee 180 kits shipped automatically for the first three months (We'll waive the shipping costs!)

And that's it! At the end of 90 days we will give you $100 credit to spend on other Shaklee products (Shaklee180 kits excluded)
This is a great way to get other products you have been wanting to try for free!
Free shipping and $100 worth of free products just for taking charge of your health.
This offer is only available May 3 through May 31, 2013 for new customers and Specialists who join Shaklee with a qualifying kit.
So start your Shaklee 180 and get $100 today!
Contact us for more details!

Promotion Details
• Offer ends May 31.
• Open to new Shaklee 180 Members and Specialists who join with a qualifying kit and meet requirements at time of purchase.
• Free shipping will be provided for the qualifying join order and for the next two consecutive monthly orders.
• Free shipping constitutes standard shipping with the exception of the first month of the Turnaround™ Kit which includes a built-in first month of expedited shipping.
• $100 credit applied after third consecutive month of AutoShip completed and must be used within 60 days of receipt.
• $100 calculated at price-tier of recipient.
• Product credit cannot be applied to the purchase of another Shaklee 180 Turnaround Kit or Lean & Healthy Kit.
• Shipping and handling discount not available after the first 90 days.
• Applies to all online and mobile orders. Orders placed through SBOSS and LA Service Center are not eligible.