"If you listen to the call tonight, email me 3 things you heard from the call and you will get a free prize!"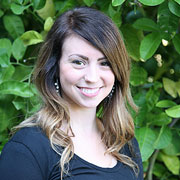 This week's Success Call features a great story of Lean & Healthy success that has translated into excellent volume growth, with solid tips for messaging the Shaklee 180 program to new people.

Join Sales Director for the Central Region Kristen Cunningham and her special guest Senior Director Derek Oldert, a Shaklee kid from Utah.
Derek started out the year in pretty good shape, but using the Lean & Healthy Kit, went from feeling good to feeling great, with a visible change in his body composition.* With his excitement about his results, and using the Shaklee 180 system, Derek has learned how to share the program in a very effective way, with a big result for his group volume - an increase from about 4000 to nearly 7000 PGV over the past six months!

Derek's wise advice is to keep your message to people very, very simple. You'll hear some excellent ideas from him about the best way to ensure that your enthusiasm, your confidence and your words help people to make the decision to try the products. Once that happens, Derek believes, people will learn how good they can feel in the program, and as he says, "Feeling good is addictive."

Don't miss this fun, high energy call with excellent information for you.

* In a 9-month study, the use of Shaklee Smoothees post exercise, plus daily use of Vitalizer improved body mass and other markers of health better than exercise alone. Results and experiences from the Shaklee 180 Program are unique for each person, so results may vary. People following the weight loss portion of the Shaklee 180™ program can expect to lose 1-2 pounds a week.


Dial: 1-512-225-3211 / 951025#
When: Monday, July 15, 2013
7 pm in All Time Zones


Following the Monday night broadcast, each Shaklee 180 Success Call will be placed on rebroadcast for one week on 1-512-703-6147. They will also be available to download as an mp3/podcast from the Shaklee 180 Success Call Archive on MyShaklee.com for registered Shaklee members.
Right now, till July 31, 2013 Shaklee is offering free membership with any purchase.
Membership saves you 15-25% off of retail!
Always Safe, Always Works, Always Green - See why we work when others don't