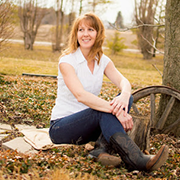 Congratulations to Julie (Key Coordinator, Ontario, Canada), our highest Cash for Cleveland point earner in February! Check out Julie's story and how she's growing!

"I first learned about Shaklee in 1997 when my mom and I attended a health talk at a local church by Shaklee Master Coordinator Martha W.(Ontario). Martha talked to me about The Shaklee Difference™ and I decided to give changing brands a try. Later, when I was a single mom with a four year old, I started my Shaklee business part time, but it was our main source of income.

"Now I am married with five kids, and I don't know what we'd do without our Shaklee income! I don't work a 9 - 5, but I make more than if I did, and I don't have to send my kids to daycare. The better health changed my life, but the better income totally changed my lifestyle, financial future and outlook.

"Shaklee has opened up a whole new world for us…worldwide travel, from Paris to Hawaii, and many places in between…just amazing experiences I could never have afforded on my own. Thanks to Shaklee I was able to take my son on a cruise to the Bahamas and on a safari in Kenya. I also was able to buy a house as a single mom, complete my University Degree, and go on several mission trips to Haiti and the Dominican Republic. One of the best things about Shaklee are the people I've met who have become part of my team as well as the incredible mentors/network of wonderful Shaklee leaders that I've been privileged to meet and learn from.

"I am always amazed at the huge ripple effect that happened from a decision to change brands in 1997. With Shaklee, I've had dreams realized that I never even dared to dream. Now I love sharing that message of hope and possibility with others!"

Note: Shaklee is in the U.S., Canada, Mexico and other countries. Please contact us if you would like to learn more. Please click on the "Contact Us" tab up top and let us know how we can help you.