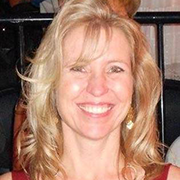 Our special guest presenter this week will be Lisa Anderson, Sr. Executive Coordinator, CO.

Lisa and David Anderson joined Shaklee in 2001, when Lisa was looking for healthy nutrition for her four young children.
Lisa started her own Shaklee business to be at home for her school-aged children and still contribute an income.
When her husband was unexpectedly laid off from his job right before Christmas, Lisa's business was there for her family.
The rewards, including multiple trips, have been great. But for Lisa, the greatest reward is helping families get healthier and more stable financially, as a result of what she can share with them through Shaklee.

How to Hear Lisa's story:

MONDAY, APRIL 6TH - 5 PM PT | 6 PM MT | 7 PM CT | 8 PM ET

Webcast Link: https://meet.fm/ShakleeMC

Dial-In Number: 1-650-281-0004

Note: To listen to the live presentation via your computer, please follow the following steps:

1) Select listening via your computer as you log in.

2) Open Settings and see what is selected – if the radio button is already clicked and there is no sound coming through, then toggle the selection off and then on again.

3) A pop-up about Adobe Flash Player Settings appears that asks to share your
microphone. Click on both the Allow and the Remember box. Finally, click the Close button, and after a short delay you should be able to hear the meeting through your computer.
Afterwards, please contact us with your questions to see if Shaklee would be a good fit for you. You can click the "Contact Us" tab up top, let us know what you would like to learn more about and we will get back with you or you can visit our website: ToBeHealthy.MyShaklee.com